The OPPO Enco W11 fulfills commitment without being overly priced being a true wireless stereo (TWS) earphone. This pair of handsfree comes with a classic in-ear design and have more than adequate functionalities like IP55 and Bluetooth. Further benefits include the USB C charging, long-lasting battery life and brilliant fitting. More than anything, the Enco earphones work amazing for vigorous physical activities including workouts, running, or moving around rapidly. If you are going for a sophisticated budget, there is everything to count in in the Enco W11 earbuds on savingbuyers.
| Products | Images | Deals |
| --- | --- | --- |
| OPPO Enco w11 | | Buy Now |
OPPO Enco w11 Review
Positives
Sufficient battery performance
IP55 rating
USB Type C charging
Good fitting
Instinctive controls
Negatives
Bass is not heavy
Average call quality
Low-latency mode is not there
Featuers
IIP55 Water and Dust Resistant
IP55 Water and Dust Resistant, Enjoy it Wherever You Go. Whether you're sweating it out or caught in the rain, your headphones will keep doing their job.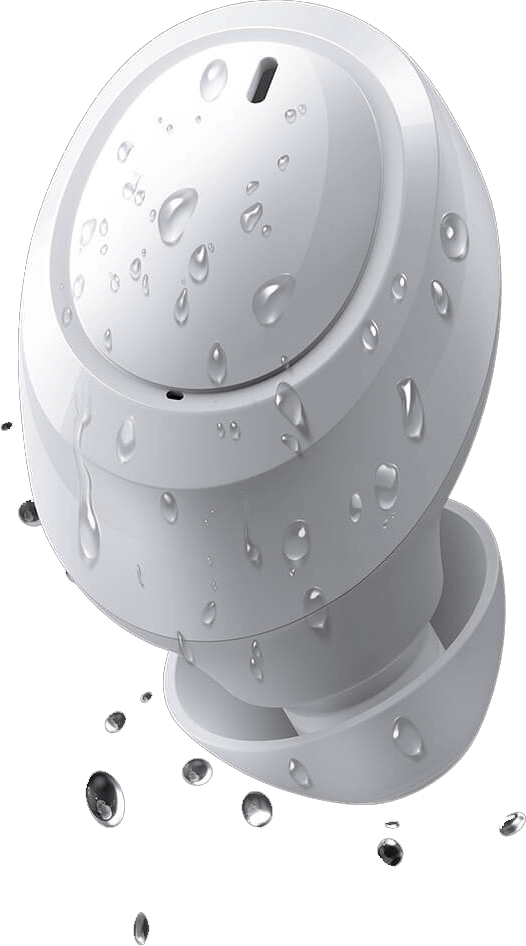 Design and Structure
The glossy outer of the OPPO Enco W11 seems fascinating from the casing and the white surface. They are only available in white colour while you do get three size options to fit your ear accordingly. With the in-ear design, you can perfectly fit them into the ears which make it one of the biggest advantages they have. The ear tips are made out of silicone foam which makes them incredibly flexible and relaxing on your skin. OPPO Wireless Headphones.
On an honest note, there is nothing bit too fancier about these wireless earphones, but the comfort wins it all. Besides subpar look, the design comes with a lot of functionalities to offer for regular ease. Also, the build is lightweight with each earphone around 4.4 grams and the casing to be precisely 44 grams. Slipping it inside your pocket won't be hard when you are on the go or even wearing them while working out.
The casing does have the satisfaction of magnetic closure, where you get the hint audio of clicking when you put back the earphones into the case. Also, you would not easily get any fingerprint smudges or unnecessary strains owing to the glossy touch of the earphones. The IP55 rating makes these earbuds easily water-resistant and dust-free, so you can have them carried with zero worries.
Sound Quality and Performance
For OPPO Enco W11, the audio basically works through Bluetooth 5.0 which connects both buds at the same time. Connecting your phone or any other device to these earphones is quite straightforward. All you need to do is turn on the Bluetooth from your device and connect to the Enco W11. Although, there is no switch or turn on button, you can still connect these earphones swiftly.
The 8mm dynamic drivers installed in the OPPO Enco w11 support AAC and SBC audio for a better overall quality. For media sounds and average videos, the audio is very clear and loud. But, for Bollywood kind of songs, you might observe the bass sounds to be a little over the board. You can go for equalizer in the phone's settings which can bring a prominent difference in the bass sounds.
For audio calls, the sound quality of Envo W11 is not greatly justifiable. There could appear a lack as well at the receiver's end despite the mic being adjusted on the top of the earphones. The earphones are good to use indoors but for outdoors, you may observe minor distortions. If you are primarily buying wireless earphones for calls, this one is probably not a solid choice.
Charging and Battery
The battery power integrated in every bud is around 40 mAH while the case has an exact 400 mAH. With this, the whole case with the earphones is charged to 100 in just around 90 minutes. There is also a quick charge of around 15 minutes that is claimed by OPPO and can be utilized for music playback of one hour.
The total battery lasting time of the OPPO Enco W11 with continuous music playback is around 5 to 6 hours. The average time that you can get with the regular music, casual gaming, video streaming and calls can last around 20 hours. For taking it along for a day, these are some nice pair of earphones to get even if you are going abroad.
The Verdict
The OPPO Enco W11 is a stylish pair of wireless stereo earphones that does the job effectively, without causing any serious lags. The glossy exterior and functional interior make it a nicer option to move with on the go. The amazing in-ear fit has to be the best factor in these earbuds that also make them ideal for working out and running around.